For patients: 
Do I have to take part? 
Being part of Here Toitū is voluntary, you can choose whether or not to take part and you can stop at any time. Your benefit payments and regular health care won't be affected by your decision.
What happens to my information?
A detailed description of what happens to your information and what you commit to by participating in Here Toitū is described in the Consent Form. We will talk through the consent form with you, and you will have the opportunity to ask questions before you decide to commit to coming on to the service.
Who do I talk to if I have questions?
If you have any questions about Here Toitū, you can talk with your GP or Health Navigator- Kaimanaaki.
For practices: 
How does Here Toitū work in practice?
Eligible patients can be enrolled in the Here Toitū programme. Via this programme the practice will:
Receive access to a flexible fund that can be used for a range of services (such as extended consultations, counselling, physiotherapy, gym access and more)
Be assigned a health navigator/kaimanaaki that will be based at the practice part time to build patient self-management skills and wellbeing
Be assigned an MSD case manager to support whānau with their needs
Have flexibility in the medical certification process
Receive training on the Well-being Star tool.
What are the benefits of delivering Here Toitū?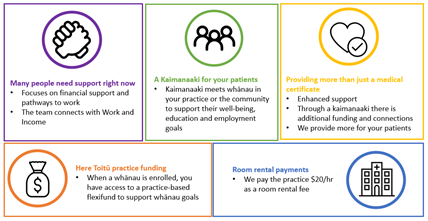 What funding is available for a patient enrolled in Here Toitū? 
Practices will have access to a 'flexible fund' based on a notional figure per practice. Health practitioners will authorise the use of these funds to pay for services or support that help a client achieve their goals – this includes covering the cost-of-service enrolment, planning appointments and follow ups completed by the practice. The fund can also be used for a range of services such as counselling, physiotherapy, gym access, glasses, podiatry and more. 
Is there any funding to have the Kaimanaaki/Health Navigator based at the practice part time? (from LEARN module)
We acknowledge that for most practices, there are competing demands for consulting rooms. To acknowledge this, the practice is entitled to $20/hour the navigator is onsite in the practice. The practice no longer needs to invoice ProCare as ProCare will automatically pay the practice on the 20th of the month.
I still have a few questions, who should I contact? 
If you still have questions, unanswered by the above, please contact Eddie Muaulama, Team lead (+64 27 210 3779, eddie.muaulama@procare.co.nz)